How to Decide on Indoor Paint Colors
How to Decide on Indoor Paint Colors
Scroll down page for more
How To Decide on Indoor Paint Colors
Can paint give your home a personality or make a room more relaxing? Experts say different shades of the same color, such as a tone-on-tone look of creams and whites, ease guests into appreciating a room.
Choose a color based in part on how a room is used and the mood you want to establish. Paint social rooms warm colors: daffodil yellow, coral or cranberry. Give private rooms — offices, powder rooms and bedrooms — cooler hues like sage green, violet or sky blue.
Bold colors make a statement, so go for contrasting colors in brighter hues — imagine an orange and blue color scheme — or go black and white. White is versatile: Ivory works for traditional spaces, bright white for modern rooms and warmer whites for a cottage look. Whites are also perfect for wide open spaces.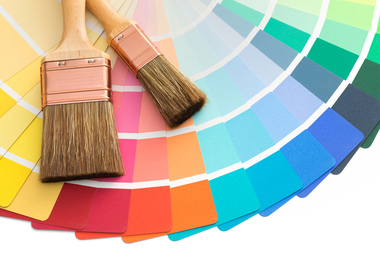 Darker colors work in small spaces without making them look smaller. These colors create a dramatic mood. What's good for bedrooms? Dark colors are best for facilitating sleep.
It's all about undertone when selecting a paint color — take samples home and look at them during different times of the day to see how they read in your space. You may just fall in love with gray-white.
Do you think accent walls make a space feel uneven? Accent walls can make a room feel unified with the other space elements. Think of an accent wall as the focal point and let the other decorative elements in the space pack a punch.
Most often, architectural moldings are painted white, so what about painting them glossy black or dark navy? For ceiling medallions — decorative flourishes in Victorian homes — try an ultrabright color amid a sea of white ceiling. Play up crown moldings, those decorative transitions between walls and ceilings, by painting a line around them as a frame. Crown molding can visually raise or lower the ceiling, depending on how it contrasts with the walls.
Smart use of color can turn one room into a gathering space. For open-plan homes with kitchens, living rooms and dining rooms in one large space, color can define interiors and create focal points. For ideas on how to choose paint colors, try these tips:
There are seven base colors in the paint spectrum: red, orange, yellow, green, blue, indigo and violet. (Roy G Biv is the way to remember them.)

Select three colors from existing furniture, a favorite throw pillow or a rug — anything that has an emotional connection or conveys comfort.
Find three sample color strips at your local paint retailer. Each sample contains a variety of complementary paint colors.
Choose one color for your wall.
Go back to the original color sample strip. Select another color for an adjacent room.
Choose a third color to use as an accent — for pillows, a painting, a throw rug — to provide a splash in every room of the house and make a connection between spaces.

Pay attention to the finishes of paints — flat/satin, semigloss, high gloss. Often, flat paint is used for walls and semigloss or high gloss to accent molding or panels on a door.

Use finishes to create visual effects on your wall.

Paint one wall with flat or satin and an adjacent wall with semigloss, both in the same color.

When the light hits the walls, it creates a velvety effect.

Paint the walls flat and the ceiling semigloss for a matte and sheen contrast.

The higher the sheen, the more attention you draw to the surface.

Use it to emphasize your interior's best assets.
Keep in mind that one person's welcome-home orange will be another person's signal to run. Orange, or any color, can be welcoming or irritating, depending on tint, tone or shade. Best resale for homes are neutral light beige`s a cross between a light yellow and light brown, which some call "Monroe Bisque" and lately a lot of home flippers install light gray color walls. You have to make yourself happy, however, keeping resale colors desired for most people are important for sure if you may sell the property in 7 years old less. Paint can create flow in open spaces — you can use the same gray to unify two spaces rather than framing an archway in a different color. Choose muted, dustier colors that flow into one another. Bright colors can be introduced in small doses as accents, such as floor coverings or even flowers. So get started today to transform your home!